Managing Africa's Regional Transport Infrastructure
n 23 May 2017 Mr. Robert Lisinge successfully defended his DBA thesis titled: Managing Africa's Regional Transport Infrastructure Programmes. Partnerships and Performance.
The DBA program of MSM has built Mr. Lisinge's resilience in solving difficult problems and enhanced the relevance and reliability of his research through the rigorous application of scientific methods. "I highly recommend the MSM DBA program to those who are interested in a doctoral degree in management", says Mr. Lisinge after his successful DBA defense.
The thesis uses a conceptual framework of partnerships to analyse the North-South Corridor Program in Eastern and Southern Africa; the Abidjan-Lagos Highway Development Program in West Africa; and the Central African Transport Master Plan. It explores the factors that determine the effectiveness of partnerships within these programs, the extent to which partnerships contribute to the implementation of projects, and the reasons for differences in performance of the programs. The thesis also develops a methodology to predict the outcome of projects.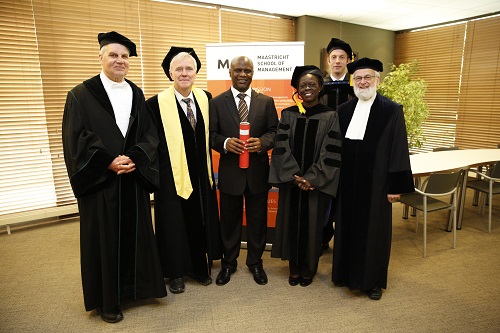 The analysis demonstrates the interactions of actors with different interests, values, power and knowledge; and exposes the hurdles in project preparation. It reveals ineffective institutional arrangements; inadequate and unsustainable funding; leadership challenges; low level of awareness, weak ownership and lack of trust that compromise project implementation. It also reveals that availability of dedicated funds, well-defined monitoring and evaluation mechanism, and strong political leadership contribute more to program implementation than equality in decision making and clarity of roles and responsibilities. Politics influences donor funding with projects in Zimbabwe being less likely to be funded than those in other North-South Corridor countries. Significant perception gaps between stakeholders on partnerships suggest that a one-size-fits-all solution for accelerated project implementation may be inappropriate.
Related news
MSM and CENTRUM celebrate the new Peruvian and Colombian graduates
Effective leadership in challenging times in Egypt
MSM's DBA School: our DBA candidates
DBA defense at MSM: Efficiency of Pension Funds in Namibia
MSM and Het Waterschapshuis establish doctoral position in Innovation Procurement