Training of Trainers of healthcare workers in DRC has started
Recently the Training of Trainers (ToT) in the Tailor-Made-Training "Improving mental health and psychosocial support services of medical staff in North Kivu working with women, girls, boys and men affected by SGBV" started in the Democratic Republic of the Congo.
Training of Trainers
On 28 September 2021 the training of 10 trainers started. These trainers are prepared for the training in the 18 health centres. The curriculum used is based on the formative research that was done in the past months. The training was officially opened by Jan van Renselaar (First Embassy Secretary – Peace & Security), on behalf of the Dutch Embassy in the Democratic Republic of Congo. The training is facilitated by Henny Slegh on behalf of Maastricht School of Management and Living Peace Institute.

Conclusions formative research
Mental health care in community health centers and referral hospitals in North Kivu, DRC, is provided by general health care providers who have no education or training in mental health care. Cultural taboos and misconceptions on sexuality among the population cause serious problems, and the same taboos are hindering health workers to address problems related to sexuality, sexual health, and sexual violence.

Psychosocial support is associated with sexual violence or HIV/aids counselling, but health staff is not familiar with any tools nor has enough skills to apply in their work. Mental health problems are explained as issues coming from the cosmological world, caused by bad spirits and demons, and health care workers feel they are not able to address those issues.

Cultural taboos on sexuality lead to many problems at individual and family levels that often evolve into mental health and psychosocial problems such as undesired pregnancies, shame and guilt, substance abuse, rape, and sexual violence and other forms of violence. Problems - when not well addressed - may develop into symptoms of depression, suicide and PTSS among other disorders. Stigmatization of mental health problems leads to rejection and severe human suffering.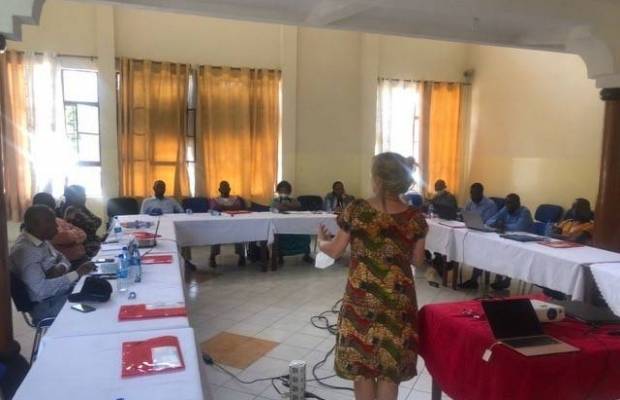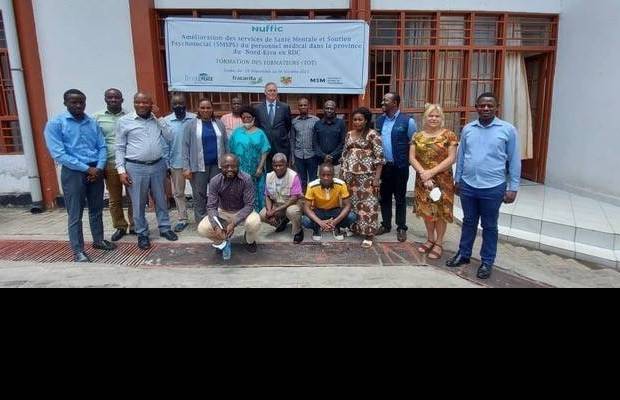 ToT curriculum
The Training of Trainers curriculum to train healthcare workers in professional skills on recognizing signs and symptoms of mental health and psychosocial problems including sexual health related problems is based on the following key results of the formative research.

1) Taboo on sexuality and sexual related problems -including consequences of SGBV- should be addressed by additional knowledge on SRHR (a) sexual education, (b) common problems on misfunctioning sexual organs, (c) recognizing signs and symptoms of abuse or sexuality related problems, (d) communication and counselling skills in talking about sex in the context of DRC.

2) The cultural taboo and stigmatization of mental health will be addressed through (a) understanding concepts of mental health and psychosocial well-being, (b) knowledge on categories of mental health and psychosocial problems, (c) recognizing idioms of distress (common cultural symptoms and signs in DRC) of mental health problems, (d) recognizing idioms of distress indicating mental health and psychosocial problems related to sexual health.

3) Limited access and often culturally inappropriate referral mechanisms for patients with severe mental health problems and/or to sexual health will be addressed through training of healthcare staff in a model of community integrated mental health and psychosocial support (adapted from the pyramid developed by IASC in 2007). The focus of health responses on reinforcement of coping strategies within the own social and cultural environment and local social support networks.

4) Action plans and strategies for community campaigns to fight stigmatization, taboos and harmful practices of mental health and sexual health aim to support mental health experts and local health staff to improve access to services, to encourage all (male and females) to seek help, prevent neglect of psychosocial and mental health problems and enable families, communities, and professionals to respond to the wide range of problems.

For more information about this Tailor-Made-Training contact Dr. Astrid ter Wiel.

Orange Knowledge Programme
This Tailor-Made-Training are part of the Orange Knowledge Programme (OKP) which is funded by the Netherlands' Ministry of Foreign Affairs and managed by Nuffic. For more information click here.
MSM's Expert Center for Emerging Economies
This project is part of MSM's Expert Center for Emerging Economies. The department is an is an expert centre on local economic development in emerging and developing markets.​ We capacitate managers and professionals from government, private sector, NGOs, and post-secondary education in Africa, Asia, Middle East, and Latin America. We offer consultancy and customized training programs, and we manage complex projects in key sectors, e.g. water, agriculture and health. For more information click here.
Related news
Improving mental health and psychosocial support services of medical staff in North Kivu working with women, girls, boys and men affected by SGBV