Understanding the interplay between business and society in a globalized world
From 2 – 6 December 2019, 13 participants from 9 different countries joined MSM's executive Corporate Social Responsibility (CSR) program. The program is designed for senior executives, policy makers, lecturers and consultants who are motivated to learn about CSR practices and how to apply these in their organization.
In this 5-day program Paul Garrison, who is highly experienced in implementing CSR strategies for various multi-nationals, introduced the participants to the various concepts of CSR. The participants learned how to implement CSR strategies and how to use different CSR tools. In addition, the participants have been trained on how to communicate strategic decisions to the different stakeholders involved. Communicating your strategic decisions and get people involved is a very important part of your CSR strategy. Paul Garrison explained "CSR is all about building value added connections to different stakeholders of the business – customers, employees, suppliers, the community and the planet".
Case studies and group assignments to put knowledge into practice
Based on the theoretical input that was provided in the morning sessions, the participants worked on various assignments in the afternoon to get a better understanding and feeling on how to put the newly gained knowledge into practice. Part of this practice were group presentations on an ethical case and corruption case with a final CSR project presentation on the last day of the program. "This course was very beneficial for me. I work at the American University of Beirut – Nature Conservation Center and soon we will start working with companies as part of their CSR strategy. So this course will definitely help me to improve my work and how to approach companies based on their values" said Diane Awdeh, one of the participants.
Insights from a company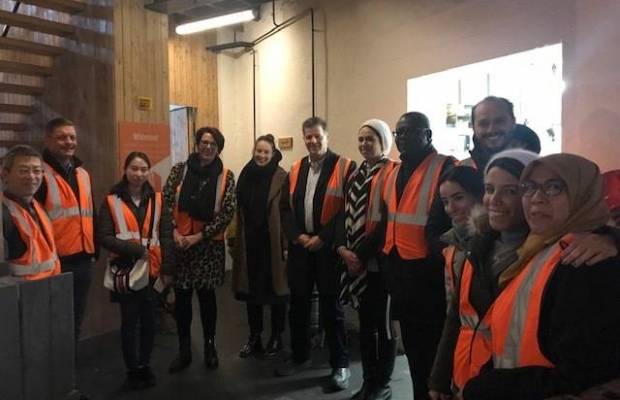 On the fourth day of the program the participant were invited for a work visit at Gulpener, an independent Dutch brewery that was founded in 1825. Gulpener is well known for its approach to corporate social responsibility (CSR). The company visit started with a presentation about the brewery itself, their CSR model and plans for the future. It was impressive to get to know what they do to become more sustainable step-by-step and how many local resources they use to brew beer. The presentation was followed by a tour through the brewery where you could see what they do to reduce pollution that comes with brewing beer.
Learning from professionals all over the world
The composition of the group, 13 participants from 9 different countries, definitely supported the overall learning experience. Paul continued, "We put a major emphasis on assembling teams comprised of class participants from different cultures as well as different business functions so that learning from each other becomes an important component of the overall program". Diane Awdeh added: "Personally, I have never been with students of so many different nationalities. I had met people from Europe before, but never someone from Nigeria or China. It was great to discover that part of the world. You discover these countries through the people! Not only by learning about their culture by talking to them individually, but also during class from a business point of view".
Interested to join the next Corporate Social Responsibility program?
MSM will run the next Corporate Social Responsibility program from 7 – 11 December 2020. In case you would like to join, make sure you reserve your seat on time. In case of any questions, please feel free to contact Manon Souren-Huppertz.
About MSM's executive education programs
In today's rapidly changing world, it is important for leaders and professionals to keep their knowledge and skills up to date and relevant. Investing in executive education is investing in your future. At MSM, we embrace this lifelong learning approach! MSM's hands-on executive programs, led by thought leaders and business experts, provide a practical and action-oriented learning experience and are designed to have an immediate impact on performance.

Related news
Embracing the Sustainable Development Goals - A project contributing to Gender Equality
Developing a strategic plan to enhance business performance
Fostering Cross-Sector Collaboration to Promote Innovation in the Palestinian Water Sector
Meet MSM's faculty members: introducing Julius Gatune Kariuki