Safe and Sound: improving mental health of Syrian refugee children through psychosocial support
The unsafe situation and conflicts in Syria have forced 6 million Syrians to flee their country and seek refuge in neighboring countries. To help these refugees the Dutch Government created the global development initiative "Capacity Development Programme Lebanon (CDPL)". Part of this program is the recently finished project Safe and Sound (SAS) or Al Salama wal Aman as it's called in Arabic. A project where Syrian refugee young adolescents' mental health is improved through community and family-based psychosocial support.
Exceeding expectations
MSM is proud to say that Safe and Sound (SAS) has improved the capacity of two refugee-serving NGOs and five schools in Bekaa, Lebanon to meet the psychosocial support (PSS) needs of their Syrian adolescent students. Lebanon hosts the highest number of refugees per capita worldwide. The SAS project works with Syrian adolescents residing in Lebanon who have been exposed to multiple traumatic events as a result of war and displacement.

SAS successfully adapted, augmented, and implemented a school-based psychosocial support program - based on a proven approach developed by Living Peace Institute - serving Syrian refugee adolescents and their parents, in addition to the school staff and teachers in Bekaa, Lebanon.

The focus was on schools because they are a focal point in adolescents' lives and communities. Schools provide a place for academic learning, and also offer a space where young people socialize, meet, resolve problems, deal with conflicts, learn life-skills, and interact with adults outside of their families. Schools can be a place for learning psychosocial skills crucial to the development and construction of identities of young people on their way to adulthood.

As a school-based psychosocial intervention, Project Safe and Sound (SAS) offered an opportunity for Syrian adolescents who are attending school to be guided in their psychosocial development process to learn to handle strong emotions and practice healthy coping skills that strengthen resilience and promote non-violent relationships with others.

Project implementation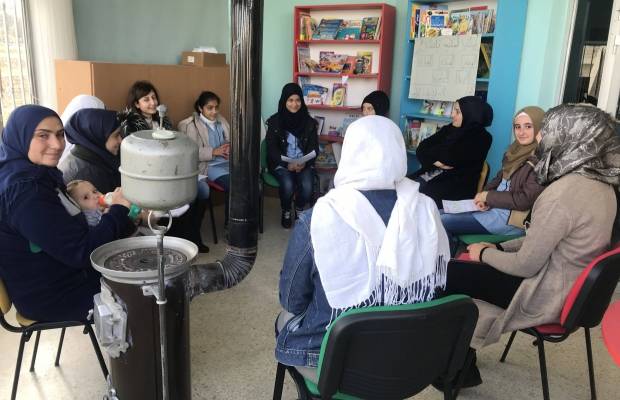 The Safe and Sound (SAS) project was implemented under the lead of Dr. Astrid ter Wiel, Associate Consultant at Maastricht School of Management (the Netherlands), in close collaboration with ​​​​​​​​​​​​​​​​​​​​​​​the Center for Civic Engagement and Community Service (CCECS) of the American University of Beirut (Lebanon), Living Peace Institute (Goma), Kayany Foundation and Al Maymouna Education (Lebanon).

The SAS intervention is an adaptation of the Living Peace program developed by Henny Slegh and dr. Benoit Ruratotoye, both co-authors and founders of Living Peace Institute in the Democratic Republic of the Congo.

Living Peace Institute is a Congolese non-governmental organization based in Goma since 2015. Living Peace Institute develops and implements community-based gender specific mental health and psychosocial support programs for families and youth affected by war and conflict. The mental health and psychosocial support methodology applies a gender-specific lens in addressing traumatic disempowering experiences of men, boys, women and girls through reinforcing non-violent coping strategies that are culturally appropriate.

Living Peace Institute provides training and research in the adaption and implementation of the Living Peace methodology to partners working in humanitarian settings and war-affected countries. The Living Peace methodology was successfully implemented through projects for various target groups including youth affected by violence extremism in Far North Cameroon, youth affected by urban and gang violence in Kinshasa, youth in schools affected by sexual and gender based violence and youth associated with armed groups in Eastern DRC (see www.livingpeaceinstitute.org).

The project used a Train-the-Trainer approach whereby 11 local psychosocial support (PSS) Specialists were trained as trainers and supervisors of 52 Teacher and Community Facilitators who were trained to lead the adolescent PSS sessions.

10 sessions were facilitated during school days by these trained local teachers and community members. Sessions included topics such as coping with problems, getting to know yourself better and strengthening positive coping behavior and building social support. The sessions reinforced Syrian refugee adolescents' resilience through skill-building in self-awareness, conflict resolution, bullying prevention, and healthy communication. The participants indicated that the activities have had had a positive impact on them.

Further, Project SAS conducted formative research through which the manuals for adolescent boys and girls were adapted and manuals for the parents and school staff were created. AUB-CCECS also organized a public lecture named "From Central Africa to Lebanon: adapting evidence-based psychosocial support interventions in post-conflict settings." Additionally, parents' sessions, school staff sessions, a refresher day workshop and an institutional development workshop took place.
The project in numbers
SAS has provided a total of 527 psychosocial support sessions to 1,157 direct beneficiaries;
SAS trained a total of 71 local members;
SAS produced: 4 PSS Manuals, pre/post tests & M&E tools, the Illustrated Book 'Safe and Sound Adolescent Journey' and an extensive Sustainability Report.
Nuffic CDPL
The Capacity Development Programme in Lebanon contributes to the improvement of future perspectives of host communities and refugees in Lebanon funded by the Dutch Government through Nuffic.

Related news
MSM and AUB collaborate on project to improve the mental health of Syrian refugee children