A sneak peek in the life of our Master in Management alumna Alka Khenchi
Meet Alka Khenchi, Master in Management alumna at Maastricht School of Management (MSM). Alka comes from India and graduated from the Master in Management program in 2019. She's been a busy bee during and also now after the program. She currently works as a Knowledge Management Intern at OPCW and will tell you all about her MSM experience and what she is up to now that she has graduated.
I'm a humanitarian by nature and a manager by profession
My name is Alka Khenchi and I would describe myself as a dedicated, creative, result-driven person who wants to bring an impact in the world around me.

Before joining the Master in Management program at MSM I graduated from a Master of Commerce in India. I'm very dedicated to the SDGs and community development and therefore I took part in several projects over the last couple of years. Taking part in these activities gave me new insights but also many awards and nominations such as the Dutch IoT award, Student for Sustainability award, a nomination in Nudge Global Impact challenge 2019 and in Global Peace Awards 2020 as an under 40 Young peace champion awards.

I'm inquisitive, observant and I like to learn new things and to meet people coming from different cultures, backgrounds and places. The Master in Management program had a very diverse and multicultural class and to keep developing my skills in managing cultural diversity, I am part of the Diversity and Inclusion project of the UN in The Hague. Furthermore, I'm very passionate about the Sustainable Development Goals (SDGs), especially SDG 4, 5 and 16. To do my part in contributing to the SDGs, I volunteered in initiatives like War Child, Women Information Network and UN SDGs Global Festival of Action.

The program has prepared me to deal with assignments in a professional, creative and innovative way
When I look back at my time at MSM, I can say that the multi-diverse environment of MSM really helped to get important experience of working in a multicultural and diverse environment. Meeting people and making friends coming from different countries and getting to know about their culture was an amazing experience.

The Master in Management program is considered as a "pressure cooker". So, yes there is a lot of pressure during this one-year program but I enjoyed it because it made me more innovative and creative while handling the pressure and meeting the deadlines efficiently. To take your mind of things and ease the pressure, MSM would organize events such as the international dinner night, movie nights and the sustainability week. Furthermore, I enjoyed the beauty of Maastricht and its countryside.

The program made me more self-aware and developed me professionally
The program helped to develop myself on a personal and academic level. The Master in Management gave me a confidence boost and insights into real business case scenarios. For example, the consultancy project that is part of the program really helped me to look into a business case from a real perspective. Then there was also the personal development track which helped me to look inside and reflect on my strengths and weaknesses. Also, the multiple group assignment improved my team building capacity and helped me to become an effective team player by taking on various roles according to the different situations.

The program is also very diverse. Courses such as data analytics and supply chain management taught me the various important theoretical and practical skills which are very much needed in the 21st century.

I can say that the Master in Management gave me firsthand experience in working with multi-cultural teams and I can directly apply this in my job but also in my day-to-day life in The Hague.

Building a career in international development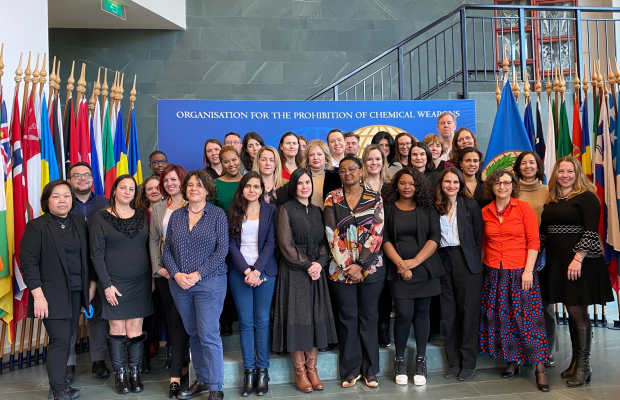 While studying at MSM it became clear to me that I wanted to build a career in the international development areas. My interests lie in knowledge management, sustainability and diversity & inclusion. To strengthen my profile in this field, I started taking part in competitions, I started volunteer work and participated in SDG related projects.

I've started building a career in international development by working as a Knowledge Management Intern at the Organisation for the Prohibition of Chemical Weapons (OPCW). OPCW works toward a world free of chemical weapons and the threat of their use, and in which chemistry is used for peace, progress, and prosperity. OPCW won the Nobel Peace Prize in 2013 for its extensive effort to eliminate chemical weapons.
In my job I am responsible for the following:
Providing support to ongoing OPCW knowledge management projects and support the implementation of new projects like taxonomy/File classification system under the guidance of the Senior Program Associate of Knowledge Management in OPCW.
Transformation of the OPCW Library towards becoming knowledge sharing and development area with a modern digital library catalogue and reorganization & up gradation of library.
Assisting in development approaches to stimulate "Ask-Learn-Share" culture within the organization through application of KM methodologies.
Assisting the Archives officer of OPCW in routine activities of Archives section by using CMS and MS Access
Preparing content like creative videos and promotional material to promote and support the implementation of Knowledge Management System in OPCW.
My future dreams and goals
My dream is to work for the development of society by being part of an international organization such as the United Nations (UN). My goal for the future is to inspire others to push for their dreams and to create impact in the world. However, I know that achieving my goal is not happening overnight. I overcame many challenges to be where I'm now and I'm still facing social and economic challenges to achieve my ultimate goal. But I'm dedicated to achieve my goal and I will achieve it sooner or later.

I also want to do a PhD in the field of peace and migration to study the refugee crisis in the world.

My advice to you
Try to find a job that you are passionate about and the prospects this gives you for the future. Focus on professional networking and gain hard skills in relation to the need of the next decades but don't forget the importance of soft skills. And lastly, always be open to learn something new, plan ahead and be more proactive.

My timeline from starting the Master in Management to where I'm now
I've created a timeline to give you an insight into my projects, achievements and initiatives over the past two years.
Timeline
Projects
Oct 2018
Started Master in Management at Maastricht School of Management
Dec 2018
Won Dutch IoT (Internet of Things )Award
Jan 2019
Attended Maastricht University courses on International Law & Politics:
The Universality of Women's rights

The Syrian Crisis from the standpoint of International Human rights

Destruction and pillage of cultural property in conflict situations
Feb 2019
Started Volunteering with Serve the city, Maastricht
March 2019
Volunteered at UNSA Model UN Conference 2019
March 2019
Became Peace Ambassador of Institute of Economics and Peace
April 2019
Started Volunteering with TeamUp (War child, Unicef and serve the children)
May 2019
Volunteered in UN SDGs Global Festival of Action 2019 in Bonn, Germany
May 2019
Student Ambassador for Daily Internship online platform.
June 2019
Participated in Six weeks SDGs project by Aiesec and OIKOS in Paderborn University, Germany
June 2019
Won Student for sustainability Award by MSM
June 2019
Got offer from UNFCCC for Knowledge Management Internship
July 2019
Got offer from Oxford University for Summer Internship
July 2019
Got Offer from OPCW for Knowledge Management Internship
August 2019
Got offer from United Nations for Internship in Procurement and supply chain
Aug 2019
Defend my Master Thesis Successfully with 7.8 grade
Titled – " Impact of Board Composition and gender diversity at workplace"
Sep 2019
Graduated with a Master degree with grade 7.9.
Also, Started Internship in OPCW
Oct 2019
Participated in Nudge Global Impact challenge (in the list of 90 people around the world) - Sustainability & Leadership : The Human Factor
November 2019
Became member of NGO – National Rights federation
November 2019
Volunteered in Conference of State Parties – Annual 5-day Event of OPCW
Created Promotional materials for Knowledge management Branch for CSP 24
December 2019
Got interview offer by Indian Embassy in Brussels
Created Video materials for launching of new library management system of OPCW Library
January 2020
Participated in the Panel talk (titles young Leader for tomorrow) during UN PRME France Benelux chapter 4th meeting.
Feb 2020
Became part of team for Diversity and Inclusion Initiative of UN in The Hague (ICC, UN MICT, UN STL, OPCW, various Embassies)
Got offer to speak at " Mediterranean Youth Forum for SDGs " on " Youth and Peace building"
April 2020
Got an offer to participate in the UN SDGs Global festival of Action 2020.